This pattern involves use of the Control Room scheduling capabilities.  The automation will execute on the scheduled dates/times on one or more unattended runners/devices.
Use this pattern any time you need a process executed on a schedule.  When an automation requester starts mentioning a need for output "every Monday", "once a month", etc - your automation can likely use this pattern.  
EXPERT TIP:  If human intervention is needed to resolve process exceptions identified during execution, consider use of the "Unattended + CoPilot" pattern.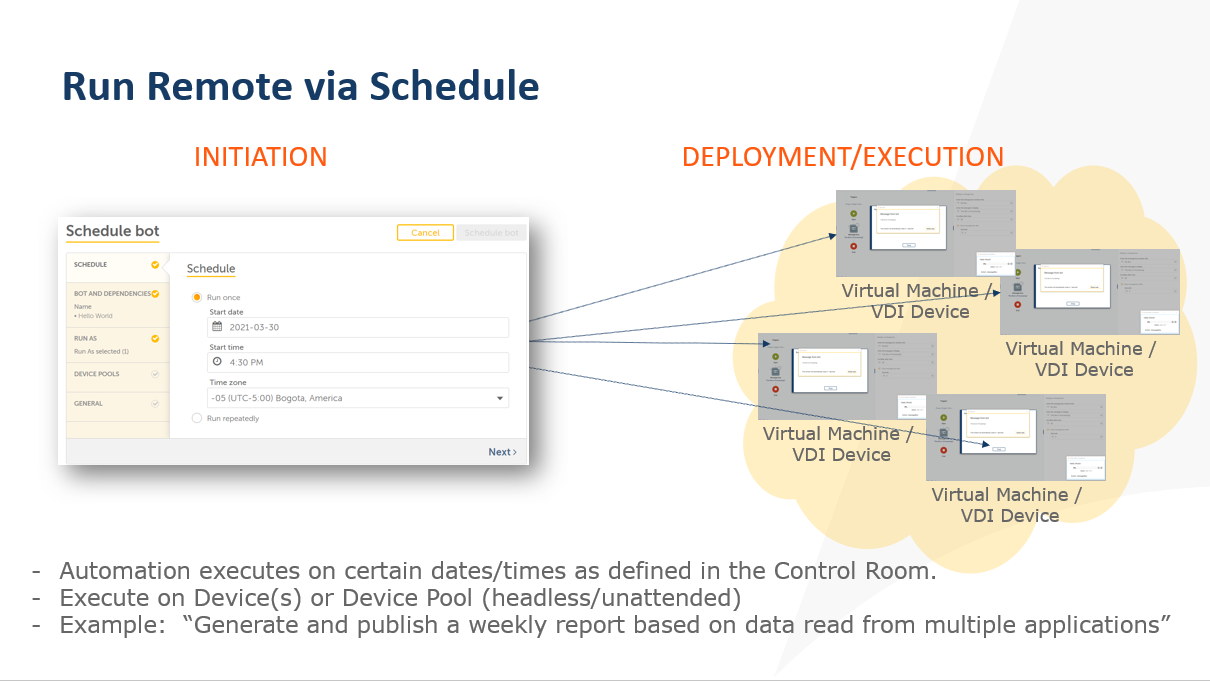 Development Framework: Any Automation360 Development Framework can be used.
Solution Design (SDD): A sample SDD is attached.  
Administration: You'll need a role defined that has access required to allow scheduling of an automation.  One or more 'custom roles' could be created for this purpose - see samples at the following link.
How to Use: Follow these steps from the Automation Anywhere Doc Portal to schedule an automation. 
Troubleshooting Execution:
| Problem | Resolution |
| --- | --- |
| I don't see AUTOMATION in the menu at all. | The user logging in to the Control Room to schedule the Bot needs a Role with 'Run Bot' access |
| I don't see that option; only "Run bot now" | The user logging in to the Control Room to schedule the Bot needs a Role with "Schedule my bots to run" access |
| Define the schedule for when you want the Bot to execute |   |
| I don't see the folder containing the automation I want to schedule | The user logging in to the Control Room to schedule the Bot needs a role with access to the folders containing Bots you need to be able to run/schedule. |
| I don't have any options in the "Available bot runner" list. | The user logging in to the Control Room to schedule the Bot needs a role that includes "Run As Users" representing the Bot Runners on which the Bot will execute. |
| Error "Either your username or your password is incorrect " | For the user representing the Bot Runner, the username/password in the "Device Login Credentials" section must be accurate. |
| RDP errors are generating when deploying the automation . | If using Windows Server, ensure the Ctrl-Alt-Delete is ENABLED in local security policy settings. |