Hello, I am facing an issue with exported a pdf document in SAP. I am giving a specific navigation example below but probably there may be a generic way out.
Below is my navigation flow-
SAP Login→ Transaction VF02→ Enter Billing Document Number→ Click menu item- Issue Output To → Print Preview (Ctrl+Shift+F1) → PDF document opens as below
I am then entering transaction as pdf! (pdf exclaimation symbol) which gives the Print Preview SAP Screen.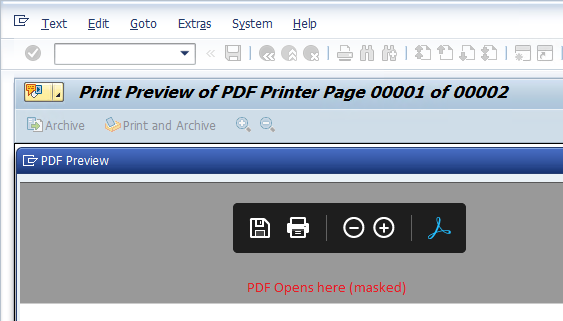 Manually clicking on the pdf save icon gives the standard windows Save As popup. But the question is how to get the window. The Shortcut Ctrl+Shift+S works sometimes but for this, we need to click on the PDF body first which is not happening by capture command. Please let me know if anyone has worked on similar thing. Thank you!