Hands-on With CoE Manager
One of the most exciting topics at Imagine 2022 was the announcement of CoE Manager for the Automation Success Platform. In this tutorial, we'll walk through the process of using CoE Manager to submit, track, manage, and monitor an automation opportunity from idea submission to a deployed automation.
What is CoE Manager?
CoE Manager is a cloud-based platform enabling automation programs to scale, and drive value from their automation practice.
Scale your automation pipeline by optimizing the idea submission process
Systematically analyze submitted opportunities based on complexity, alignment to strategic objectives, and ROI for the business
Minimize the effort in tracking, reporting, and managing your automation delivery cycle
Report on value generated by delivered automations

Including projections for automations that are still in pipeline/development
What is an Opportunity?
Every automation/use-case that is tracked in CoE Manager is an opportunity. An submitted an idea is an opportunity, an automation that is currently being developed is an opportunity, and even a delivered automation is an opportunity. What separates opportunities is where they are in the automation lifecycle/workflow process.
The CoE Manager Automation Lifecycle
One of the key benefits of CoE Manager is tracking automation opportunities through their lifecycle. Let's take a look at that lifecycle, and cover some of the benefits an automation program could expect by adopting such a standardized intake-to-delivery approach.
Idea
One of the fastest ways to scale your automation program, is by opening up the idea submission process across your organization. This means that anyone within the organization who has an idea for what may make for a helpful automation has the ability to fill out a form and submit their automation idea. Once submitted, these automation opportunities show up in CoE Manager on the Ideas tab. Two things really make this Idea process helpful to an automation program trying to scale:
Standardization of Intake – Everyone submitting an idea fills out the exact same submission form. The same questions are asked of each idea submitter. Some are free-form text, others are drop down selections. The process is less than 20 questions, and should be easy enough for just about anyone to understand.
Standardized/Automated Idea Evaluation – Because everyone is submitting ideas in the same way, using the same form, and answering the same questions, CoE Manager is able to automatically generate a score related to each idea's complexity, alignment to strategic objectives, and savings (as measured by time saved and money saved)
This consistently captured data along with automated scoring provides automation leaders with the details they need to make data-driven decisions about which submitted ideas should be prioritized to help their program meet its goals.

Pipeline Opportunity
Once an automation leader/team has decided an Idea should be pursued more seriously, the idea is approved and turned into a Pipeline Opportunity. A couple things happen at this stage of the Automation Lifecycle. A 2-step workflow process is initiated.
Step 1 is designed for a business analyst to be able to do the research, documentation, and validation of a use case required to prepare the opportunity for development.

This may include working with the individual who submitted the original idea to validate the savings/complexity details, as well as documenting the applications, steps, and details of the process in a process design document (PDD) in order to accelerate the development process
Once this documentation and validation is complete, the opportunity can be submitted through the approval workflow.

Step 2 is designed as a final approval step before the opportunity is submitted for development. In this step of the workflow, the automation opportunity will show up in the Opportunity Pipeline tab, on the Awaiting Approval table as well as the Prioritization Bubble Chart.

The Awaiting Approval table enables automation leaders to quickly evaluate the automation opportunities that are available to be "sent for development". The table provides an easy way to decision makers to be able to quickly compare vetted opportunities based on savings, alignment, complexity, and cost to build. This enables for data-driven decision making as opposed to "first in first out" or "I really like this team, so we're doing theirs next"
The Prioritization Bubble chart is a visual representation of the same data from the Awaiting Approval table. Here, each opportunity that is awaiting final pipeline approval is charted out based on is complexity, alignment, and net savings. The larger the bubble, the greater the net savings, and the further to the upper right quadrant, the better alignment vs complexity ratio.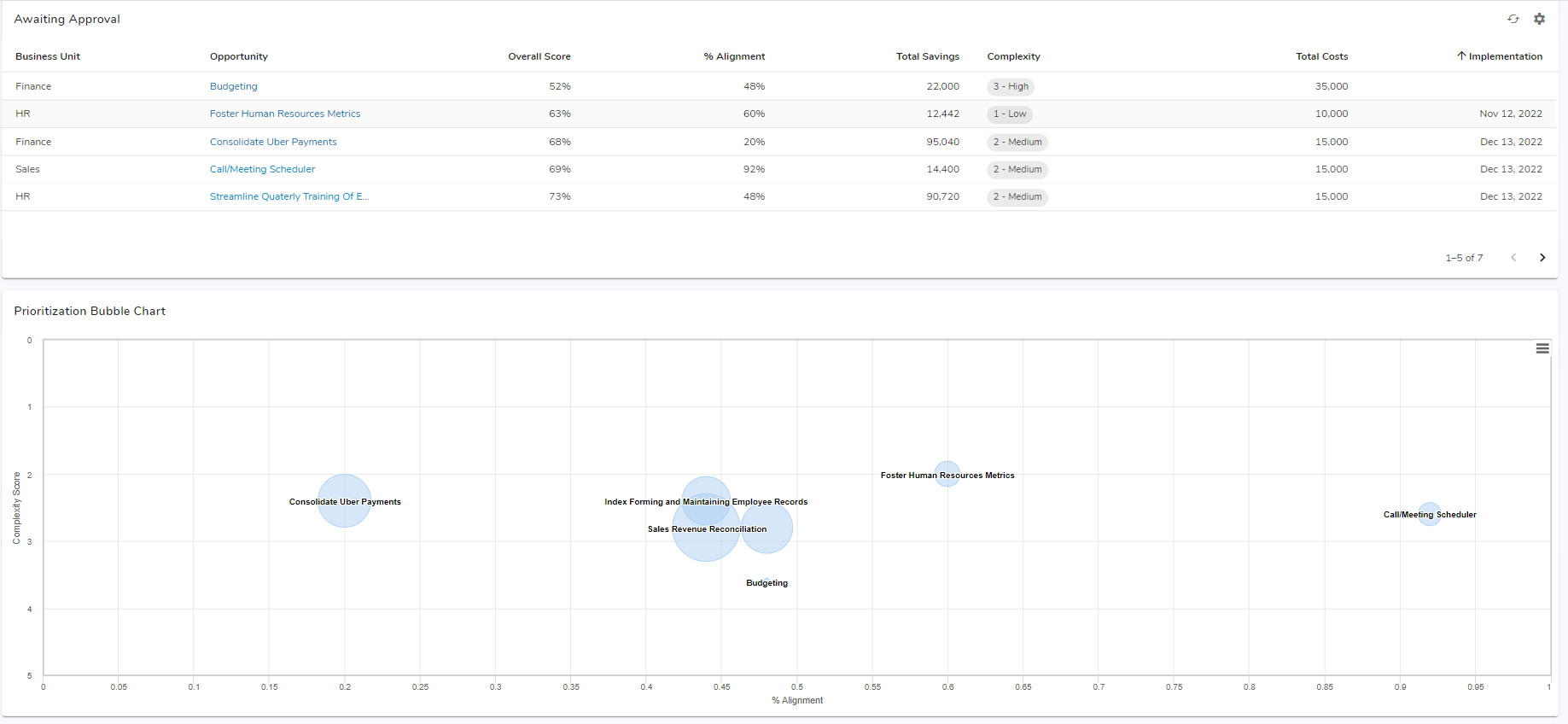 In Progress
Once an automation opportunity has had final approval in the pipeline workflow step, it is moved to the In-Progress step. In Progress opportunities are those that are in various stages of development. From the main In Progress tab, users can see a list of all opportunities that in currently in progress, along with status icons and messages to indicate how they're tracking against expected delivery. Just like on the Pipeline tables, we also can see the total expected savings for each opportunity as well as the total cost, and target go-live date.

Each opportunity in the In-Progress stage also has two new tabs added to the opportunity tracking page. The Activities Tab enables teams to track project activities/deliverables – each with their own status and assigned owner. This tracking enables teams to identify responsible individuals for each task, as well as report and track on the progress of deliverables vs their target date. The completed vs outstanding activities also creates a "% of Activities Completed" score, which enables users to report on the progress of all outstanding activities.

The other tab that gets added to the opportunity tracking page is the Execution Tracking tab. Here, teams can associate a task bot(s) from their Automation Anywhere Control Room to an opportunity in CoE Manager. While not necessarily something that has to be done early on in development, adding this association as you're ready to move your automation to production will ensure that Execution tracking and reporting can take place from day one of deployment.
Like the Pipeline workflow step, the In-Progress workflow step is also comprised of 2 substeps. The first is obviously designed for the tracking and ultimately completion of designing, developing, and testing of your automation. The second step is a final approval step, where someone in an automation lead role can make sure that all requirements are met, documentation has been submitted, and that all testing documents/sign-offs are complete. Once approved in this second step, the opportunity will move to the Deployed workflow step.
Deployed
The Deployed tab is used for tracking any automation that has been deployed and is being monitored for execution tracking and ROI reporting. The Deployed Tab in CoE Manager displays the benefits realized (in $) for the entire automation program, as well as the benefits achieved vs target (configurable in the Admin tabs). Through a helpful graph, and table of all deployed automations – Automation leaders can track the value delivered by their automation program, and dig into the specific metrics/savings generated by each deployed automation.

Conclusion
CoE Manager is a super helpful platform that enables automation leaders to have significantly greater visibility into their automation intake pipeline and reporting to demonstrate the value of delivered automations. It provides the data necessary to make data-driven prioritization decisions that answers "What do we automate next?", and provides helping tracking and reporting as to the status of each opportunity within the automation lifecycle. For more information about CoE Manager, check out the CoE Manager Product Page as well as the CoE Manager documentation. Until next time, Go Be Great!