Bot Games 2021
Bot Games 2021 was a month-long event created by developers, for developers designed to engage, upskill, challenge, and celebrate the Automation Anywhere developer community. Bot Games was a bit different this year (besides being 100% virtual) as there were two components:
Bot Wars - a series of weekly challenge pages designed to test your skills as an RPA developer and gamify the experience of optimizing your solutions. (If you missed participating in any of these challenges - good news, they are still available)
Bot Games Hackathon - a month-long project-driven experience designed for developers (or teams of developers) to demonstrate their expertise in bot building as they submitted projects around the theme of returning to a new normal - bots and solutions designed to help employees return to a better, more creative workplace.
In this post, we'll focus on the Bot Games Hackathon component of Bot Games as well as announce the winners from our Hackathon!
Bot Games Hackathon
Engagement with the Bot Games Hackathon was great - over 1000 developers registered for the event with many creative/unique project submissions. All submissions were reviewed to identify the top projects. From there, each of the top 10 teams was asked to present their solutions live for our panel of distinguished judges who evaluated each project based on:
So Who Won?
Prize: $5,000 USD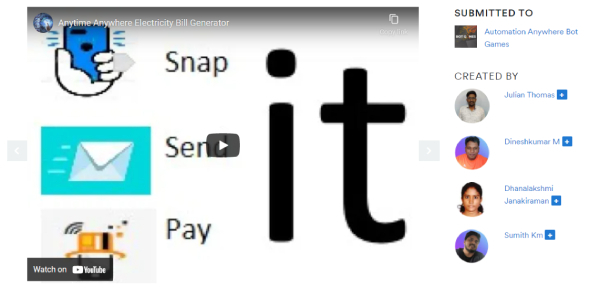 Built with Automation 360, IQ Bot, Python, Google Vision, Microsoft Access, and the TNEB Bill calculator, the Anytime Anywhere Electricity Bill Generator project seeks to help customers and electric companies reliably automate the process of capturing electricity usage for accurate and appropriate billing. In this way, customers aren't surprised by large bills that are infrequently coming up, and organizations can collect money due without the current (very manual) process of capturing electricity meter readings. Project Team:
---
Prize: $3,000 USD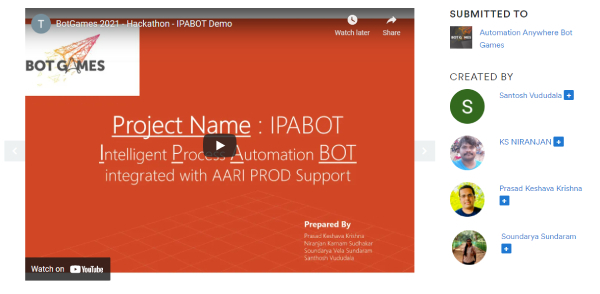 Invoice processing is a mundane and repetitive task. The Intelligent Process Automation Bot seeks to automate end-to-end invoice processing for any organization's accounts payable department. It also includes Automation Anywhere Robotic Interface (AARI) integration for an easy user experience and a reduction of time being spent by business users in resolving exceptions. Project Team:
---
Prize: $2,000 USD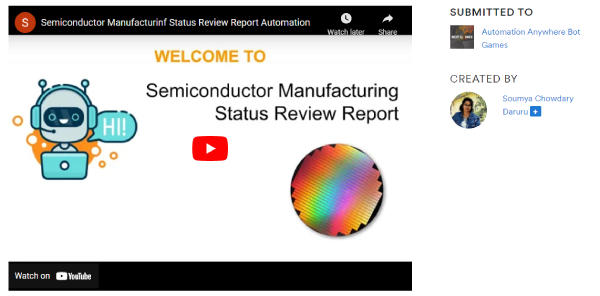 Semiconductor manufacturing requires detailed monitoring and reporting of throughputs, exceptions, and production metrics. The Semiconductor Manufacturing Status Review Report Bot seeks to alleviate the burden production engineers face in generating status reports for their departments so that operations engineers can stay informed of current output metrics. Using this bot, operations engineers can get more real-time data related to manufacturing facility throughput, and make better decisions in optimizing production efforts. Project Team:
---
Innovation Awards
Prize: $500 USD for each project
In addition to the top 3 projects, several projects were recognized for their use of Automation 360 through Innovation Awards.
Innovation Award Project: Invoice Processing - IQ Bot: A unique solution to IQ Bot invoice processing when traditional table headers and tags aren't readily available.
Project Team:
Innovation Award Project: Digi Recruiter: A Human Resources assistant to screen, track, and promote resumes to recruiters based on resumes that match desired skills
Project Team:
Innovation Award Project: Semiconductor Manufacturing - RPA for IIoT Analysis Report: Semiconductor Manufacturing relies on 1000's of pieces of sophisticated equipment. Using Industrial Internet of Things (IIoT) sensors, this bot aims to capture and report on the status of equipment and alert on any abnormalities.
Project Team:
Innovation Award Project: Account Opening Process: Using the Aadhaar Card (similar to Social Security Card in the US) - this bot can read details from the identifying document for the purposes of pre-populating the required account details for opening a new bank/financial services account.
Project Team:
Conclusion
First off - HUGE thanks to everyone who submitted a project for this year's Bot Games Hackathon. There were loads of cool ideas/projects even beyond what we had the space to highlight in this article. Whether you submitted a project or not, consider checking out the project above to see what ideas it may spark for you as you tackle upcoming automation initiatives. Even without having access to all of the project code, just watching the project videos can spark some new ideas of initiatives you might be able to take on for your organization. Finally - keep building, keep learning, and keep improving. Like we said at the beginning of this article - Bot Games was designed with the intention of empowering and upskilling Automation Anywhere developers. Think back to the beginning of August...have you improved as an RPA developer since then? If not, check out some of the Bot Games challenges, tutorials, Bot Store Spotlights, and community-contributed articles. Loads of helpful content to improve on your Automation Anywhere Bot Building skills.