Taking on the role of automation leader is an exciting opportunity, but it comes with the responsibility for leading and managing your organization's implementation of complex automation processes. This is no small task, and you'll probably need to use a wide variety of skills to be successful.

The good news? All the skills you need can be learned and Automation Anywhere has training to help support your growth and development. If you're already leading your automation program, or you're ready to climb the career ladder, read on to learn what skills will help you be an effective automation leader.

5 skill areas to master as an automation leader

Technical Skills
Automation leaders should have a deep understanding of the technical aspects of automation, automation tools and platforms, and data analysis techniques. Automation Anywhere University has several courses designed to help you expand your technical skills. Ready to get started? Start with these two:

Portfolio Management Training
Automation leaders should know how to submit, track, manage, and monitor an automation opportunity, from idea submission to a deployed automation using CoE Manager. With CoE Manager, you can track the ROI of automations and create a healthy pipeline of use cases using real-time dashboards. Get all the details in the Managing Automation Pipeline using CoE Manager course.

Knowledge of Best Practices
For a sustainable, scalable automation program, an organization must establish best practices—and the automation leader should be the shepherd for those best practices. With training, you'll gain exposure to best practices in the field, including the latest automation technologies, strategies for successful project management, and effective communication techniques. If you're interested in sharpening this skill, we recommend starting with the course Introducing Automation Operating Models. These 6 tips can act as a reference in your journey of automation.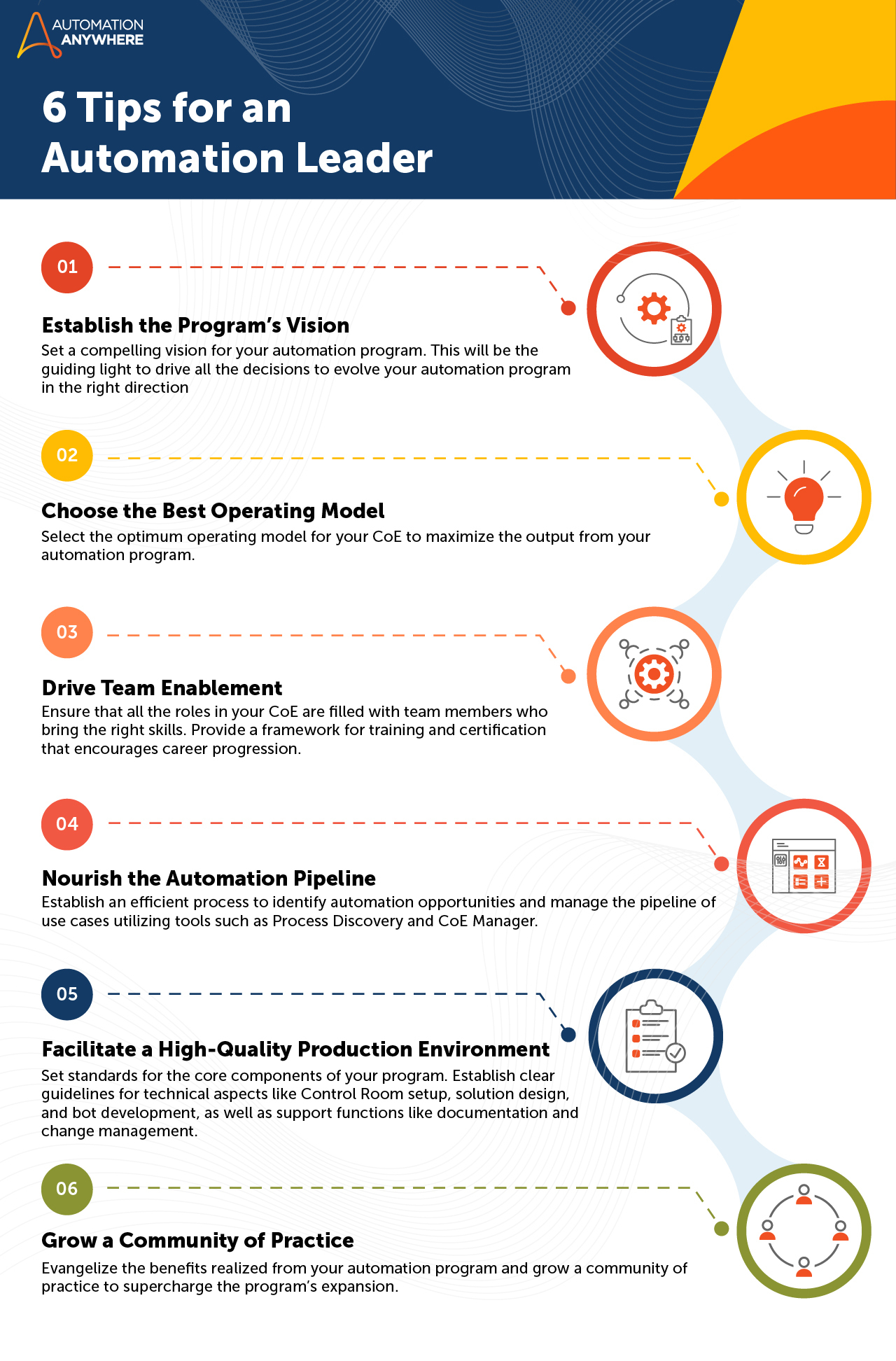 Leadership Skills
Communicating effectively, team-building, coaching Citizen Developers, and helping Citizen Developers graduate to Pro Developers require automation leaders to hone their abilities to motivate, encourage, mentor, and more. As your Citizen Developer program grows, you may find our course Empowering Citizen Developer Leads to Drive Scalability can help you learn to empower your citizen developers.

Nurturing Innovation
Automation leaders must be adept at identifying and developing innovative solutions to automate organizational processes. If digital transformation is a strategic priority for your organization, building a culture that encourages and nurtures innovation is vital.

The Pathfinder Program and the Automation Leader Learning Trail are two robust resources that can help you boost your ability to effectively lead automation initiatives and drive significant gains that will propel your business forward.